Utah Cracks Down on Illegal Gambling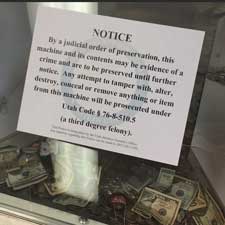 Utah enacted a new law on fringe gambling. As a result, local law enforcement agencies are busy going after illegal gambling operations. According to the Attorney General's office, gambling is a big problem in the state. In fact, the state is losing millions of dollars to gambling machines.
Illegal gambling machines are hidden in plain sight. People don't think they are illegal because they can easily access the machines in convenient places. In 2017, the Office of the Attorney General removed more than 400 machines from the state.
However, the number of illegal gambling machines in Utah increased significantly since the last raid. It will take one to two years to get rid of them with a similar raid. The problem is that the state doesn't have a dedicated unit to pursue illegal gambling activities.
Crack Down on Illegal Gambling
Utah implemented the new law on May 14 that defines fringe gambling. However, it doesn't create a task force agency to crack down on illegal gambling. In addition, the new law doesn't regulate gambling operations. As a result, it makes it riskier for gamblers.
Due to its illegal nature, the state government doesn't have a monitoring system in place. They don't know how the money is moving because no one is paying taxes. In fact, the state needs to do a big investigation in order to grasp the current situation.
Local governments are conducting their own investigations. For instance, Price City Police got search warrants to seize 17 machines from a local pawn shop. The police don't shut down the places of business. In fact, customers were entering the pawn shop while they were conducting their raid.
Captain Billy Barnes of the Price City Police said that majority of the money went to the owners of the pawn shop. Only 15 percent went to a lucky few players.
According to sportsbook pay per head reviews, sports betting remains illegal in Utah. You should consider elsewhere in the US where they already legalized sports wagering.