Update on Josh Shaw Gambling Appeal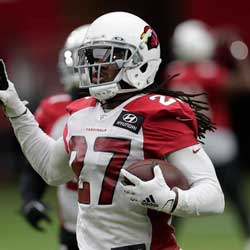 The NFL suspended Josh Shaw for the entire 2020 season for placing bets on pro football games. Recent gambling reports indicated that he filed for an appeal. Thus, the NFL will handle the Josh Shaw gambling appeal.
According to league officials, gambling suspensions are resolved through a person assigned by the Commissioner, and not through an independent arbitrator. This is according to the Article 46 of the NFL labor deal. As a result, a successful appeal will be less likely to happen.
The NFL Players Association might want to consider changing this rule, not because of Shaw's case. Josh Shaw's case is special because the NFL caught him red-handed. He wrote down his occupation as a pro football player when he signed up for a Caesar's sportsbook account.
Josh Shaw Gambling Appeal
However, the players association should investigate the rule before the NFL accuses other player of gambling based on less obvious proof. Also, many people are questioning the fact that the NFL suspended him for the whole season for something he though he was permitted to do so. Also, he placed his bets in a legal bookie and not just in a random China betting market.
German gambling report sees the penalty as excessive. There's no evidence Shaw tried to hide his sports betting activities. Also, it was a one-time thing. Maybe the league just wants to make his case an example so that other players will not do the same mistake he did.
An independent arbitrator might side with Shaw if he makes the argument that the suspension is excessive. However, the lack of independence in the appeal process gives the league an advantage.
In case he wants to retire from pro football, he might want to learn how to be a bookie. Online sportsbooks are making a killing in the market today. According to recent reports, sports betting overtake online gambling in NJ.